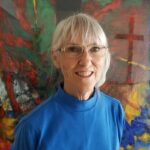 Carol Napoli
1998 Best of Show, Painting
On Exhibit: January 2 – February 13, 2021
Gallery Hours: Wednesday – Saturday, 10 AM – 4 PM
First Saturday Receptions: January 2 and February 6, 4 PM – 7 PM
Artist Talk: January 9, 11 AM, Atlantic Center for the Arts at Harris House, 214 S. Riverside Drive, New Smyrna Beach, FL.
I received a Bachelor of Fine Arts degree from Florida State University in the mid-seventies. Newly married, my sculptor husband, Jerry Napoli and I settled in New Smyrna Beach raising our two children and realizing our vision of working together creating art. In these early years I would draw profile portraits and seascapes in the lobby's "Tiki Hut" of the Islander Beach Lodge.  Eventually we began to exhibit in local outdoor art festivals. My early works were soft pastel on paper or canvas. I loved the close mark making and powerful colors that produced moving images. Soft Pastels also were an excellent medium for a mom with young children. I eventually moved into acrylic paint as my medium. I love the flexibility of creating surface textures and layers of paint history. The works can be viewed as abstract but are seeded with purpose and theme that I hope speak with passion and conviction.
The paintings are conceived from a prayerful approach. Weaving images, marks and color create themes that express a personal response to an eternal hope in our loving God. With my faith in Jesus, I view life's situations as framed by the knowledge that God is with us and we are loved. The lamb quite often represents, the Lamb of God, Christ Jesus. When a painting is completed it is my desire that the work will speak to the heart and soul as well as bring interest and beauty to the viewer.
The showing of art in the street poses many challenges yet more delights. Patrons and artists meet in a festive open situation. Another wonderful result is the relationships that the artists form among themselves. A fluid community of artists share not only the desire to show and market their work but the joy of caring friendships, sharing ideas and the encouragement needed in the more difficult times.
Jerry and I are grateful to have raised our family in New Smyrna Beach topped with the opportunity of showing our work throughout the State of Florida and the country for the past 40 years. It was a privilege to have received the Images, Best of Show Award; here in our hometown. Thank you.
Atlantic Center for the Arts at Harris House, 214 S. Riverside Drive, New Smyrna Beach, FL.
#BestofIMAGES