Atlantic Center for the Arts Announces 2018 IMAGES: A Festival of the Arts Award Winners
The work of 240 artists from 28 states and Canada was presented at the 42nd Annual IMAGES: A Festival of the Arts over the weekend. A juried fine art festival, IMAGES, presented by Atlantic Center for the Arts, drew a huge crowd of over 48,000 in New Smyrna Beach.
"IMAGES was ranked the 39th Top Fine Art Festival in the Nation by Sunshine Artist magazine in 2017, a designation we were proud to receive," said Atlantic Center for the Arts Executive Director Nancy Lowden Norman.  "It is reflective of the quality of artists selected for the Festival, as well as the commitment from our Patrons and Sponsors. We're proud to be part of a community that values and supports the arts."
IMAGES is supported by the Country of Volusia, City of New Smyrna Beach, Southeast Volusia Advertising Authority, Visit Florida, Boston Whaler, Florida Hospital, NSB Homes, Daytona Beach News Journal, Bath Fitter, Oceanwalk and Riverwalk Condominiums, Mullinax Ford, Old Town Discovery Center, Yellow Dog Eats, The HUB on Canal, and Culture Builds Florida.
"I appreciate sharing in the camaraderie and excitement the artists have for describing their work," said Judge Danyl Cook of Denver. "Art can be so personal, it's so exciting to see an artist make something with such care that is going to a patron who connects with that creation."
Judge Jean Marie DeSpeigler of Largo said, "The originality provided us with a very dynamic show, and it was a hard decision."
IMAGES Chair Denise Crutchfield announced the 2018 IMAGES: A Festival of the Arts award winners:
ACA VOLUNTEER LEAGUE BEST OF SHOW AWARD ($6,000)
Marilyn Vaillancourt / Jewelry / Weeki Wachee, FL / Booth 9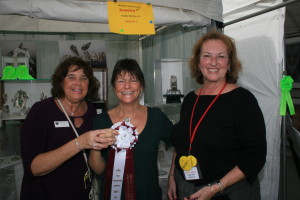 GEORGE AND JUNE MUSSON AWARD ($3,500)
Clovis Rusk / Painting / Brooksville, FL / Booth 167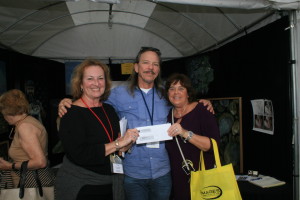 MONA BREWER AWARD OF EXCELLENCE ($2,500)
Christian Nevin / Jewelry / Apopka, FL / Booth 155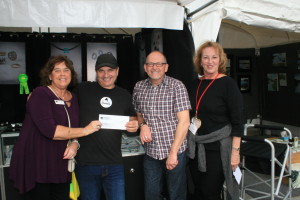 JIM MCNAMARA AWARD FOR PHOTOGRAPHY ($1,500)
Eugene Bauer / Photography / St. Peters, MO / Booth 228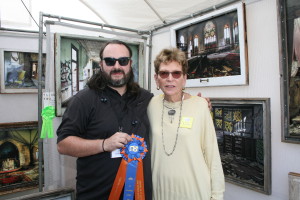 AWARD OF DISTINCTION (4) $800
Lori Jenkins / Painting / Melbourne, FL / Booth 49
Jeff Eckert / Drawing and Graphics / Tampa, FL / Booth 54
Ken Orton / Painting / Venice, FL / Booth 60
Mina Heuslein / Ceramics / Port Orange, FL / Booth 200
AWARD OF COMMENDATION (6) $600
Richard Currier / Painting / Micco, FL / Booth 108
Michael Vagner / Jewelry / Eugene, OR / Booth 92
Lynn Fisher / Ceramics / Bellaire, MI / Booth 138
Sandy Lent / Glass / Lake Mary, FL / Booth 109
Copper Tritscheller / Sculpture / New Smyrna Beach, FL / Booth 219
Teresa Merriman / Fine Crafts / Westcliffe, CO / Booth 172
JUDGES' CHOICE (5) $400
Ken Jensen / Ceramics / St. Augustine, FL / Booth 182
Danny O'Driscoll / Painting / Batesburg, SC / Booth 192
Laird Myer  / Digital Art / Ponte Vedre Beach, FL / Booth 8
Kevin Lohse / Mixed Media / Dawson, MN / Booth 117
Jason Stoddart / Photography / Cookeville, TN / Booth 201
AWARD OF MERIT (12) $350
Bill and Jon Slade / Glass / Jacksonville, FL / Booth 4
Rollin Karg / Glass / Kechi, KS / Booth 169
Brian Horan / Digital Art / Lagrange Park, IL / Booth 221
William Alburger / Wood / Barto, PA / Booth 240
John Leben / Digital Art / Saugatuck, MI / Booth 116
Julie Berndt / Ceramics / Dawson, MN / Booth 118
Walter Arnold / Photography / Hendersonville, NC / Booth 142
Mark and Lee-Etta Van de Bogart / Jewelry / Bronson, FL / Booth 150
Sharon Tesser / Fine Crafts / Louisville, KY / Booth 206
John Mascoll / Wood / Safety Harbor, FL / Booth 82
Laurel and Michael Davern / Jewelry / Lancaster, NY / Booth 218
Igor Menaker / Photography / Grayslake, IL / Booth 147
AWARD OF HONOR (6) $300
Phil Parker / Mixed Media / Flagler Beach, FL / Booth 23 (Not pictured)
Michael Bryant / Photography / Atlanta, GA / Booth 60D
Steve Edgaar / Leather / Tallahassee, FL / Booth 141
Shawn Thomas / Leather / Belton, TX / Booth 229
Don and Serena David / Jewelry / Palm Coast, FL / Booth 232
Joyce McAdams / Mixed Media / Edgewater, FL / Booth 119