Chaz Underriner Quintet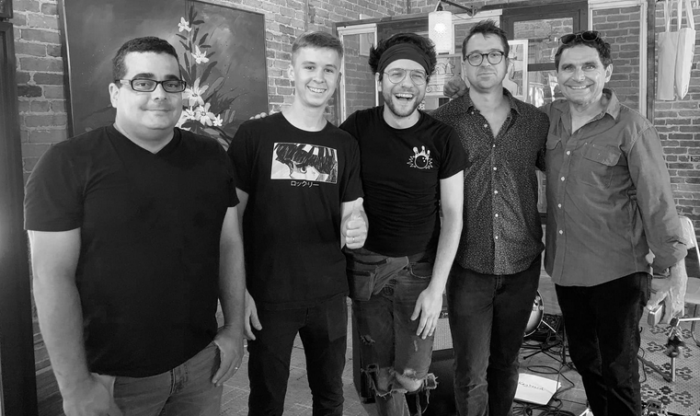 Read more about the members of the quintet based in central Florida
on their website, Chaz Underriner Quintent, or in the bios below.
Chaz Underriner is a composer, guitarist, and intermedia artist based in DeLand, Florida. His music has been called "quietly radiant in animated stasis" (The Wire 2022) and that it "enchant[s] the listener so that time loses its function, so that you are completely subordinated to your dreams." (Nieuw Noten 2017) Chaz specializes in playing new music, jazz, and free improvisation and has performed in venues and festivals throughout the US and Europe, such as at Gaudeamus Muziekweek (Utrecht, NE), the Los Angeles Philharmonic's National Composer's Intensive, GROUND Solyanka (Moscow, RU), the Proyector International Video Art Festival (Madrid, ESP), the Alchemy Film and Moving Image Festival (Hawick, Scotland), the Impuls Festival (Graz, AU), Ostrava New Music Days (CZ), the Forfest Festival (CZ), RAUM (Vienna, AU), the MISE_EN Music Festival (USA), and the Timucua Arts Foundation (Orlando). Chaz creates art in a variety of styles and forms, from meticulously notated chamber music to multimedia installations.
Garrett Wingfield is a Miami based saxophonist and composer who actively avoids boundaries and borders in his artmaking. His compositions "…demonstrate his unique skills as a writer and instigator of group improvisation…" (Free Jazz Blog) and are "…equally informed by disparate influences — as much Ellington as it is Berio, as much Ornette as it is Zappa…" (Nextbop). Wingfield won a 2018 ASCAP Young Jazz Composer Award for his composition "Berne Center," which is on his ensemble The Octopod's album, "Monoliths and Sepulchres." He is currently developing a new improvisational language involving various liquids interacting with saxophones and is composing a set of one minute compositions for his Octopod ensemble that explore various angles of attention deficit.
Electric bassist, keyboardist, composer/arranger, singer/songwriter Dan Walters provides solid side-musician support to many excellent artists and makes skillfully crafted music of his own that ranges from rootsy singer/songwriter (Man in the Mountain, The Missing Piece) through theatrical/cinematic (Europe Approaching, Again) guitar rock (Call it an End, NPR) and into what is loosely called "new music". Dan dedicated his life to music at an early age and has been consistently and energetically involved in the music business throughout the United States and abroad for four decades. Included in his many recording credits are six solo albums, ETERNAL NERVE, FORTUNATA, GUESSWORK, INVISIBLE, SPEAK OF LOVE and THE ENHANCED LIFE. Dan also has two albums currently in the final stages of production, THE MAN FROM SUNRISE, and an as yet unnamed album of instrumental pieces.
Carlos Martinez is a jazz pianist, arranger, and keyboard clinician based out of DeLand, Florida. Originally a music theory and composition student, Carlos was a student of Dr. Michael Rickman at Stetson University, Carlos transferred to the University of North Florida where he graduated from the award-winning Jazz Studies Department headed by legendary saxophonist, Bunky Green. He has performed with or opened for some of the giants of jazz music such as Pat Martino, Jimmy Heath, Bob McChesney, Dave Brubeck and others.
Growing up in small towns in Kentucky, John Tichernor's musical influences were the sounds of crickets at night, weekly church choir rehearsals (his dad was a Baptist preacher), his mother's big band albums, school marching band programs, and WSM 650 am on the radio dial which was always crystal clear. He also studied percussion at Murray State University while in high school and went to Baylor University in Texas to study percussion with Dr. Larry Vanlandingham in the early 1980s. He continues his lifelong love of drums and drumming and has taken lessons from New Orleans legend Johnny Vidacovich, jazz brush master Marty Morell, and central Florida all-star Barry Smith. John teaches business ethics at the Stetson University School of Business and plays drums whenever possible.  He was the regular drummer for the DaVinci Jazz Experiment which played weekly at Café DaVinci for nearly 10 years.