The IMAGES Committee is made up of over 100 volunteers,
the City of New Smyrna Beach, and its many art enthusiasts.
Together we work to make this the friendliest festival on the circuit
and are proud to offer our invited Artists:
Hoteliers and Atlantic Center for the Arts offer discounted accommodations to accepted artists
The Saturday Artist's Dinner features outstanding food and the awards ceremony
Artist Ambassadors
Boothsitting services
Breakfast daily and refreshments during Artist Hospitality Center hours
Near-site parking
Open communication — please feel free to contact us by email at Images@imagesartfestival.org
The very popular Artist Hospitality Center at the Brannon Civic Center (105 S Riverside Drive) schedule below:
Friday, January 26
Artist Hospitality Center Hours: 7:30 AM – 11:30 AM
Morning coffee is available at check-in, and boxed lunches will be delivered to your booth prior to the show.
Saturday, January 27
Artist Hospitality Center Hours: 7:30 AM – 12:00 PM
Artists' Dinner 5:30 PM – 7:30 PM at the Brannon Civic Center
(includes music, great food, and award announcements!)
Sunday, January 28
Artist Hospitality Center Hours: 8:30 AM to 12:00 PM
Morning coffee, tea, fruit, baked goods and grab-n-go snacks available.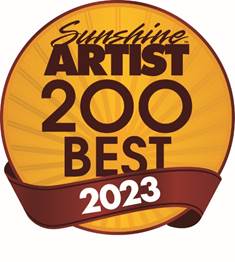 Ranked #18 in the Nation by Sunshine Artist's 200 Best, spotlighting subscribers' most profitable shows!