IMAGES: Holiday Tour of Homes
Saturday, December 3, 2016      9 AM – 3 PM
The IMAGES Holiday Tour of Homes will present five unique homes decorated for the holidays and showcasing the unique charm of New Smyrna Beach. This is a favorite event of the Central Florida community, and groups of friends attend year after year as a kick-off to the holiday season. The popular IMAGES Boutique is included in your tour and features handmade items created by ACA Volunteer League Members.
The IMAGES Holiday Tour of Homes is the main fundraiser for IMAGES: A Festival of the Arts. Over 1,000 people attended the Tour in 2015, raising nearly $25,000 for prize monies for the Festival.  Thank you to all who attended, and to the homeowners and florists who fill this event with holiday cheer!
Tickets: $25, ACA Members $20. Call (386) 423-4733 or email images@IMAGESARTFESTIVAL.ORG
 2016 Homes will include: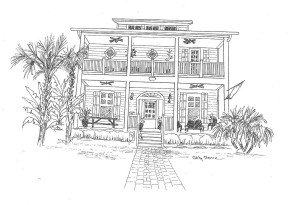 The Preisser Home, Decorations by homeowner – Breezy porches with views of the Intercostal, traditional furnishings and the magic of paint turned this new Walter's Construction home into a fabulous beach retreat. Guys, don't miss the complete NFL helmet collection!

The Schulz Home, Decorations by  Pink Flamingo at Petals  – Chic 1950's Coastal Craftsman originally built as a duplex has been transformed into a spectacular single family home.  A labor of love for the family, owners of Del Mar Construction.
The Snow Home,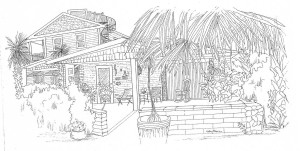 Decorations by homeowner – Great care was taken in bringing this 1964 beach-side home back to life. New observation deck offers 100-degree view of the ocean.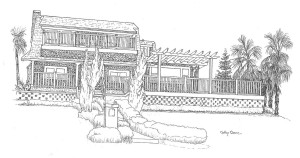 The Raffa Home Decorations by homeowner- Southern elegance and beachfront sophistication fill this Dutch colonial home originally constructed in 1920.

The Bennett Home, Decorations by New Smyrna Beach Florist – Love of nature, travels and family went into building this beautiful home nestled amongst the historic oaks.
Plus the Holiday Boutique!  Purchase Tour of Homes tickets and shop for creative gifts at the ever popular
IMAGES Boutique which will be held at Atlantic Center for the Arts Downtown, Arts on Douglas, 123 Douglas Street, NSB.
Tickets will be available starting October 24 at the following locations:
Atlantic Center at Harris House/IMAGES [back door],214 S. Riverside Drive, New Smyrna Beach
Arts on Douglas, 123 Douglas Street, New Smyrna Beach
BJ's Flowers & Plants, 917 S. Ridgewood Avenue, Edgewater
Lindley's Nursery & Garden Center, 1232 Canal Street, New Smyrna Beach
New Smyrna Beach Florist, 121 Flagler Avenue, New Smyrna Beach
Pink Flamingo at Petals, 201 Canal Street, New Smyrna Beach