IMAGES Holiday Tour of Homes
Saturday, December 1, 2018      9 AM – 3 PM
The IMAGES Holiday Tour of Homes will present unique homes decorated for the holidays and showcasing the charm of New Smyrna Beach. This is a favorite event of the Central Florida community, and groups of friends attend year after year as a kick-off to the holiday season. The popular IMAGES Boutique is included in your tour and features handmade items created by ACA Volunteer League Members.
Tickets: $25 / ACA Members $20 (click here to become a member)
For full details and tickets call (386) 423-4733 or email images@IMAGESARTFESTIVAL.ORG
Tickets  will be available at the following locations starting October 2018:
Atlantic Center at Harris House/IMAGES [back door],214 S. Riverside Drive, New Smyrna Beach
Arts on Douglas, 123 Douglas Street, New Smyrna Beach
BJ's Flowers & Plants, 917 S. Ridgewood Avenue, Edgewater
Lindley's Nursery & Garden Center, 1232 Canal Street, New Smyrna Beach
New Smyrna Beach Florist, 121 Flagler Avenue, New Smyrna Beach
Pink Flamingo at Petals, 201 Canal Street, New Smyrna Beach
Thank you to our 2017 homeowners, decorators, guests and volunteers! 
The IMAGES Holiday Tour of Homes is the main fundraiser for IMAGES: A Festival of the Arts. Over 1,000 people attended the Tour in 2017, raising nearly $25,000 for prize monies for the Festival.  Thank you to all who attended, and to the homeowners and florists who fill this event with holiday cheer!  The 2017 tour included: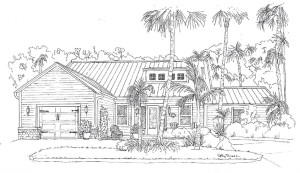 The Lynn Home, decorated by Lindley's Nursery & Garden Center – This amazing designer created the home of her dreams. With hard work, good friends and an eye for details, her 1970 ranch was completely remodeled into an airy coastal retreat. Enjoy her unique finds and fixtures—each painstakingly sought, found, and restored.
The Rausch Home, Decorated by Pink Flamingo at Petals –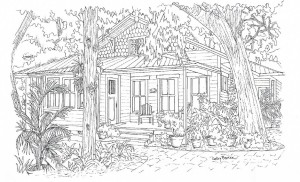 Affectionately named "The Artists Cottage," this 1915 home is a place of creativity and wonder. Shiplap wood, original windows and period touches preserve the integrity of this complete renovation. Twists and turns full of whimsical touches will lead you to the artist's studio and a secret garden.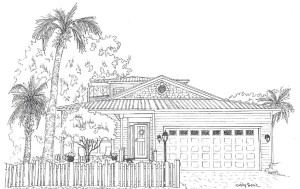 The Mahood Home, decorated by NSB Florist – The homeowners first met and fell in love while visiting New Smyrna Beach 43 years ago. With the help of Hickson Construction, they later transformed this original 1920s Mediterranean into a Southern Traditional charmer. Wrap-around porches and sentimental touches have turned their former family get-a-way into their forever home-to-stay.
The Hess Home, Decorated by the homeowner and friends –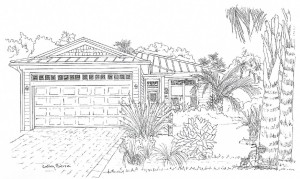 This lovely New Englander's beach retreat embraces Florida Living. Built in 2012 by Brent Walters, the colorful, open-concept home wraps around a pool and an outdoor kitchen, artfully blending indoor and outdoor spaces. A visual guest book graces the back fence with keepsakes from visiting friends.
The Gatchel Home, Decorated by Pink Flamingo at Petals Recapturing the memories of earlier years spent fishing and surfing in New Smyrna Beach, the owners designed and located this home close to the beach and on the ICW with extraordinary river views.  Decorated in Coastal Hampton style, this contemporary six-bedroom house by Dave Brewer incorporates large open areas, expansive windows, soaring ceilings, original artwork, and unique lighting and designer touches to create a casual and inviting ambience. As you tour this home, you will enjoy piano and vocals by local singer-songwriter Mary Beth Koplin.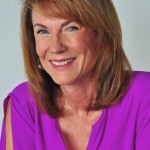 Mary Beth Koplin, BA is a singer-songwriter from New Smyrna Beach, Florida. Her passion is music and her songs will inspire and delight you. As a child she played the family's old Baldwin spinet and sang harmony, while her Mother sang the lead from pop music, show tunes and church worship. Song after song grew into a lifestyle that propelled Mary Beth to graduate from Regents College, Albany, New York with a degree in music performance.  Mary Beth's fans find a place for themselves in her music. As she says, "I think that the best music takes a personal experience and makes it universal. It's not me performing, but all of us sharing life together, through the songs."  For a fun and deeply emotional experience, listen to some of her songs by visiting her website: www.marybethmuse.com