ABOUT THE FEATURED ARTIST
Steven Ward (Booth #27)
IM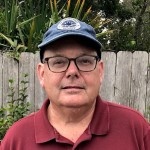 AGES: A Festival of the Arts, presented by Atlantic Center for the Arts, is proud to announce the featured artist for the 2019 Festival, Steven Ward of St Augustine, Florida. The featured artwork, an acrylic on canvas painting, is entitled Regatta.
Steven began painting 20 years ago, at the age of 40, when he was living in Illinois. He didn't have any formal art training, but as the son of an architect he was exposed to drawing and the visual arts all his life.
"I was always good at art, but it never occurred to me that you could make a living from it," said Ward. "My wife, Cheryl, suggested that I put some of my work in local art fairs in Chicago, which we did, and to my surprise they sold!"
Steven graduated from the University of Illinois in 1980 with a degree in economics and, while working in downtown Chicago in the finance industry, he went on to earn an MBA soon thereafter.
The success of his work at art festivals led him to "hang up his suit and tie" within three years and he then began working the art festival circuit full time. Ward now exhibits at about 35 art fairs each year.
When explaining the imagery in his work, Ward says, "I am originally from Central Illinois, with its sea of corn and soybeans fields dotted by farms and small towns. Despite the small-town location, I grew up in a mid-century modern home that my father designed and built.  We had a flat roof, orange shag carpeting and an Eams chair. The new modern art of the 1950s and 60s generated artists that had a huge impact me and the world around them. I was as much an Andy Warhol fan as I was a Beatles fan. All my art in some way is influenced by this period and is driven by color and geometry. When I start a painting, I have only one goal, that at the end it is an interesting piece of art. I don't try to force anything to a conclusion, the art usually finds its way to the surface; often the trick is simply leaving things alone."
Steven Ward has been selected to exhibit in art fairs throughout the United States, such as Cherry Creek Art Fair in Denver, CO; Cottonwood Art Festival in Dallas, TX; Gold Coast Art Fair in Chicago, IL; Coconut Grove Art Festival in Miami, FL; Art in The Park in Richmond, VA;  Stockley Gardens in Norfolk, VA;  Beaver Creek Art Festival in  Beaver Creek, CO;  Third Ward Art Festival in Milwaukee, WI; Chicago Botanical Garden Art Festival in Deerfield, IL;  Artsplosure in Raleigh, NC;  Dogwood Art Festival in Atlanta, GA;  South University Art Fair in Ann Arbor, MI;  Grand Haven Art Festival in Grand Haven, MI; Festival of the Arts in Alexandria, VA; and Beaux Arts in Coral Gables, FL.
"I hope you enjoy my art―I try to communicate some beauty, enjoyment or both with all my paintings."
Click here to read more about Steven Ward
The 42nd Annual IMAGES: A Festival of the Arts, will be held January 25-27, 2019 in historic downtown New Smyrna Beach. It features 225 artists, live entertainment in Riverside Park, a student art exhibit, and free children's art projects.
Image: Steven Ward, Regatta, acrylic on canvas, 30″ x 40″, detail*
#MyIMAGESweekend #LoveNSB #VisitFL