ABOUT THE FEATURED ARTIST
Leslie Peebles     (Booth #45)
IMAGES: A Festival of the Arts, presented by Atlantic Center for the Arts, is proud to announce its featured artist for the 2018 Festival is Leslie Peebles of Alachua, Florida. The featured piece, a relief print entitled "Gopher Tortoise".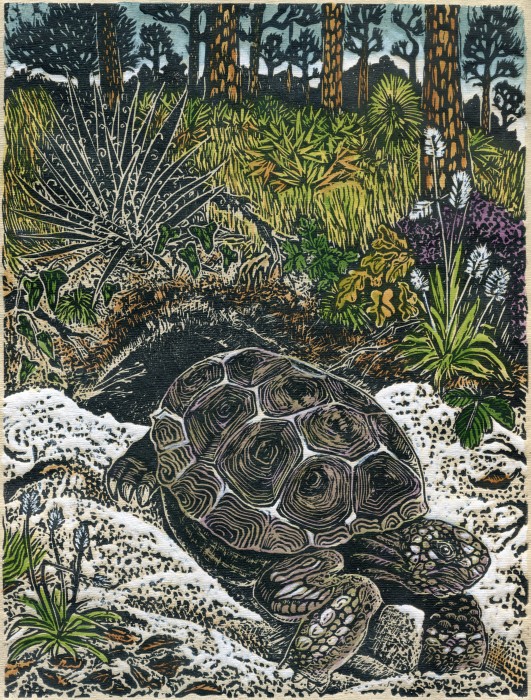 Leslie attended The University of the South in Sewanee Tennessee and received her B.A. in Studio Art from Newcomb College in New Orleans in 1981. Leslie moved to Gainesville in 1985 and received an M.A. in Art Education from U.F. in 1994. She taught Art for 17 years in Florida.
Leslie has won numerous awards including First place from Coconut Grove, Tallahassee, Mount Dora, and the Morse Museum Award from Winter Park. She is currently represented by McIntyre Studios in Gainesville, High Tides Gallery in St. Augustine, Clay and Paper Gallery in Dunedin, and Art Expo Gallery in St Petersburg Beach.
Inspiration comes by way of experience, dream, memory or idea. The works push beyond the boundary of surface description to a deeper, numinous or magical realism. They are rooted in reality but occupy a liminal space that is more real, more colorful; more alive.
I try to capture those moments that lift the veil of our limited perception of what is real, to a fuller, soulful and spiritual understanding of The beauty of creation. My goal is to honor the world for its true self.
I experience the landscape and all the life forms it nourishes and translate those experiences into drawings. The drawings are transferred to blocks of linoleum or wood. The slow, meditative process of carving distills and clarifies the images. I print their surfaces onto hand-made paper using a Charles Brand Etching Press. Color is added with reduction or multi-block printing, or hand-colored with watercolor or encaustic paint.
The 42nd Annual IMAGES: A Festival of the Arts, will be held January 26-28, 2018 in historic downtown New Smyrna Beach. It features 225 artists, live entertainment in Riverside Park, a student art exhibit, and free children's art projects.
Click here to read more about her work