2019 FESTIVAL JUDGES

Ray Azcuy
Ray Azcuy lives and works in South Florida.  He received his BA and MA from the University of South Florida, Tampa, Florida.  He is a recipient of the South Florida Cultural Consortium Fellowship for Visual and Media Artists and the John F. Kennedy Center for the Performing Arts Summer Fellowship. His work is in corporate, private and museum collections including the Perez Art Museum Miami (PAMM) and the Miami International Airport, Miami, Fl.  Azcuy's work has been in various solo and group exhibitions including: New Art South Florida, MOCA at Goldman, Miami, Fl., Cintas Foundation Fellowship Finalists, MDC's Museum of Art + Design, Miami, Fl., Big Juicy Painting (and More), Miami Art Museum, Miami, Fl., PUSH PLAY Redefining POP, Jacksonville Museum of Contemporary Art, Jacksonville. Fl., Salvador Dali Museum, St. Petersburg, Fl., St. Petersburg Art Center, St. Petersburg, Fl., Aesthetics & Values, Frost Art Museum, Florida International University, Miami, Fl, Miami-Dade College, Kendall Campus, Miami, Fl, mia Gallery, Miami International Airport, Miami, Fl. Additionally, Azcuy has taught at the secondary and college levels and was visual arts supervisor and director of museum magnet programs for Miami-Dade County Public Schools.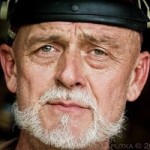 Harry Messersmith
Messersmith maintains a full service bronze foundry and sculpture atelier and continues to refine his sculpture he describes as triangulated figures. He gives the following characterization of his artistic vision. "I have been developing a series of triangulated, figurative, architectural works since 1982. My work addresses the evolution of technology and its positive and negative effects upon the human condition. I strive to express within the human figure sculpture a dynamic sense of balance that I believe must exist between science and spiritual enlightenment in order for civilization to progress with dignity".
Messersmith received a grant from the Andy Warhol Foundation to attend a master artist residency with Gio Pomodoro at The Atlantic Center for the Arts in November of 1999. He then traveled to Milan, Italy in June, 2000 to promote "The Bronze Exhibit", a group exhibition that included three of his figurative bronze sculptures.
Messersmith served as executive director of The Museum of Florida Art from 1989–1995, and director of The Lighthouse Gallery and School of Art in Tequesta, Florida from 1995–1996. Before becoming director of The Museum of Florida Art, Messersmith served for three years as an artist-ineducation for the Volusia County Public Schools; he has also taught fine art and sculpture at Daytona College, Stetson University, Crealde School of Art, Harris House, Atlantic Center for the Arts, and The University of Central Florida.
Messersmith earned his Master's degree in fine art and sculpture from the University of Florida under J. G. Naylor in 1983, and his Bachelor of art degree from Stetson University under his father Fred L. Messersmith and Dan Gunderson in 1981.
Lisa Johnson was unable to attend