Boston Whaler has a rich history of community support, and as a major sponsor of IMAGES: A Festival of the Arts, is giving back by offering an original painting by IMAGES artist, Steven Hardock, that will be raffled at the Festival this year, with proceeds benefiting Atlantic Center for the Arts programming in area schools.
Visit the Boston Whaler display area by the Entertainment area in Riverside Park January 24-26 to enter for a chance to win. Tickets are $3 each or two for $5.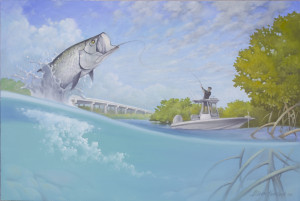 For more than 60 years, Boston Whaler has been building superior quality unsinkable sport fishing, pleasure and yacht tender boats. Founded in 1958 and currently headquartered in Edgewater, FL, the company's unique foam-cored construction process contributes not only unsurpassed flotation, but also superior ride characteristics and durability. The current product line ranges from 11 to 42 feet and is distributed around the world by a network of exceptional dealers. For more information about The Unsinkable Legend, please visit www.bostonwhaler.com. Boston Whaler is owned by Brunswick Corporation, the largest marine manufacturer in the world.
Photo: 2019 Boston Whaler prize by Steven Hardock. Hardock has been dedicated to the arts and the youth of Volusia County for over 30 years. He currently teaches art at Chisolm Elementary and Coronado Beach Elementary and has been an IMAGES artist for many years.

Click here to learn more about Steven Hardock